Frustrated With Trying To Remove Stubborn Mold & Mildew Around The House?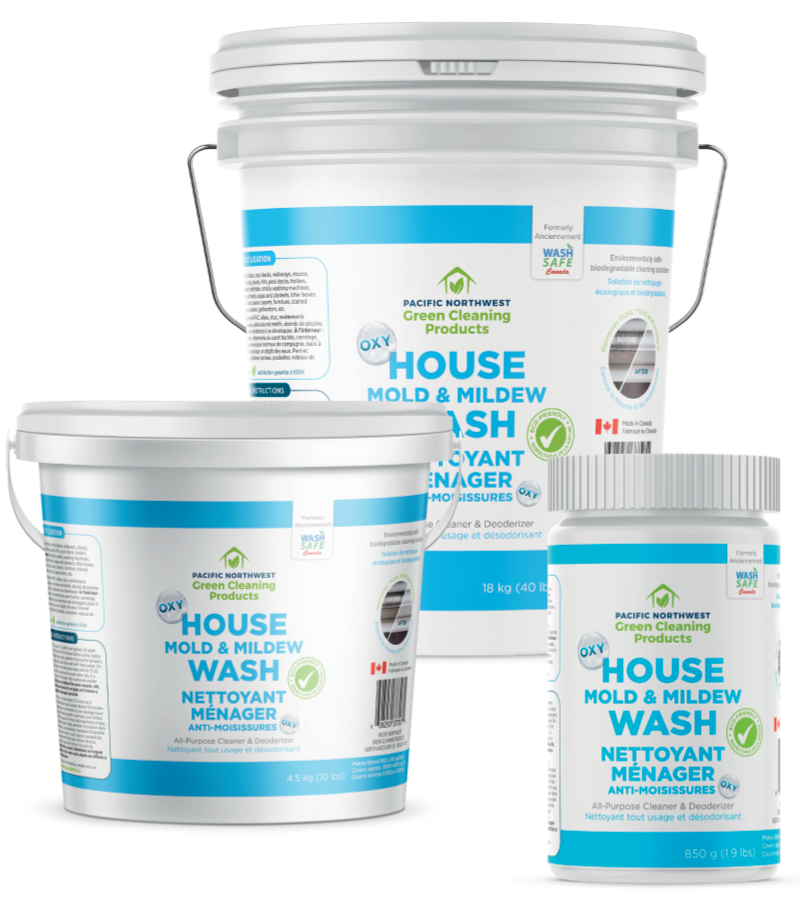 Excellent for removing mold, and preventing it from re-growing

Safe around plants, lawn, and wildlife

Perfect for moldy surfaces inside or outside your house!
Using a powdered form of hydrogen peroxide as the main active ingredient, this Mold & Mildew Wash was formulated for everyone who is trying to make the change from chlorine's and bleaches that clutter the retail shelves and poison our earth. Everybody just reaches for their bottle of bleach when a mold or mildew cleaner is needed.
Our Mold & Mildew Wash not only cleans, it de-odorizes with a fresh citrus scent, leaving behind a clean surface and enjoyable fragrance, a refreshing change from the toxic odors and fumes from bleach. This product is non-staining, will not harm your plants or lawn, will not disturb wildlife and only has a 4-6 hour "activated" life, before breaking down into water. Mix only what you will use but if you have activated product left over, dispose of it down your drain, where the product will break up organic matter, de-odorize your pipes and is safe for your septic system.
Inside the home uses include: tub, tile, toilet, sink, shower, spas, dishwasher, coffee pots, liter boxes, pet cages, refrigerator, wastebasket or any area where mold, mildew, stubborn stains or offensive odors are found. It is also great in the washing machine to brighten clothes without discoloring them. Outside of the home uses include: vinyl or aluminum siding, gutters, window sills, patio furniture, grills, coolers, trash barrels, decks, patio stones, driveways, walkways, stairs, steps, mailboxes, RV's, boats, tents, or any where mold, mildew, dirt, grime, stubborn stains or offensive odors are found.
Outdoor: patio furniture, vinyl decks, walkways, stucco, aluminum or vinyl siding, boats, RVs, pool decks, trailers, anywhere mold and mildew occur.
Indoor: bathtubs, smelly washing machines, stained athletic gear, tile, grout, toilets, pet beds, cages and blankets, litter boxes, basement or attic mold, flood damage. Also cleans carpets, furniture, stained coffee pots, garbage containers, shower curtains, garburators, etc.
Add 125 ml of Oxy House Wash (1/2 cup or 3 capfuls per gallon) to 4 L of warm water, mix until dissolved then let sit to activate for 15 minutes before using. Apply with spray bottle, mop or sponge (for larger jobs use a garden style pump sprayer), then scrub with a brush, sponge or rough cloth, and rinse well with fresh water. On surfaces like carpets and furniture, rub solution into the stain, keep wet for 15-20
minutes, then soak up excess moisture with a towel and vacuum when dry. It is always good to test in an inconspicuous spot. For larger jobs a pressure washer may be used instead of scrubbing.
Do not use on leather, fine wool carpets, silk, aluminum, or sterling silver. Avoid letting overspray dry on glass as it leaves a difficult to clean residue.
Active ingredient: hydrogen peroxide
850 g will clean 60 0 –90 0 sq. ft.
4.5 kg will clean 3,0 0 0 –4,0 0 0 sq. ft.
18 kg will clean 12,0 0 0 –16,0 0 0 sq. ft.
Oxy House Mold and Mildew Wash in Action!
We used Oxy House Mold and Mildew Wash that was applied with a 2 Gal Pump Sprayer and for Washing we used a 1700 PSI Karcher Electric Pump held out a minimum of two feet from the Vinyl on a wide angle spray setting. We only cleaned to the tops of the windows in the pictures the owner will be completing the remaining vinyl.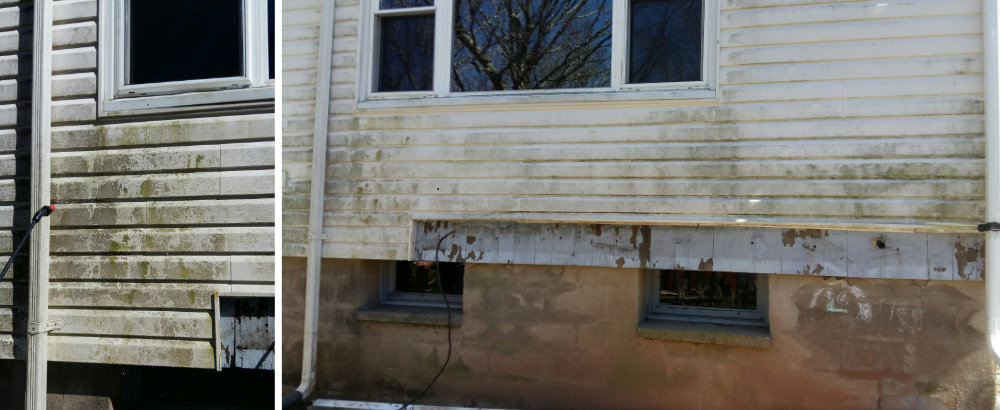 Before – Oxy House Mold and Mildew Wash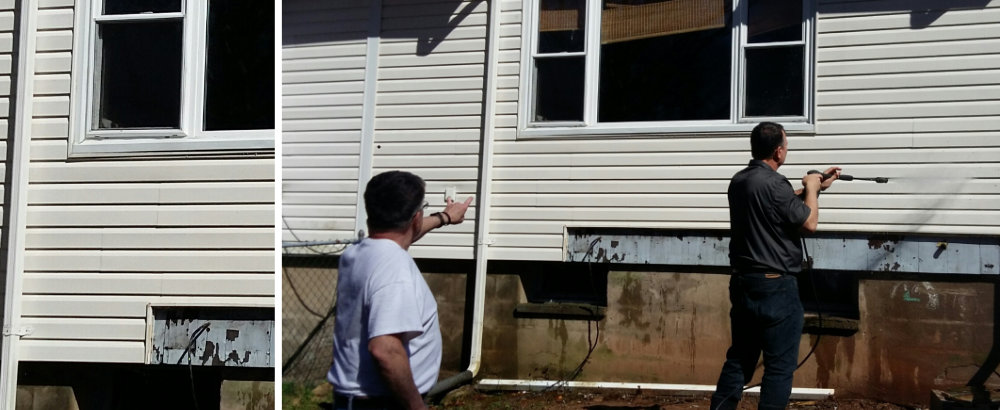 Results During – Oxy House Mold and Mildew Wash
"The vinyl cleaned up just like new with the House Wash as you can see from the pictures. The owner was very pleased with the results as were the neighbors!"
J.B. (Jack) Sparrow, Green Jack Solutions
Mobile: 902-809-2900
E Mail: [email protected]
Buy Oxy House Mold & Mildew Wash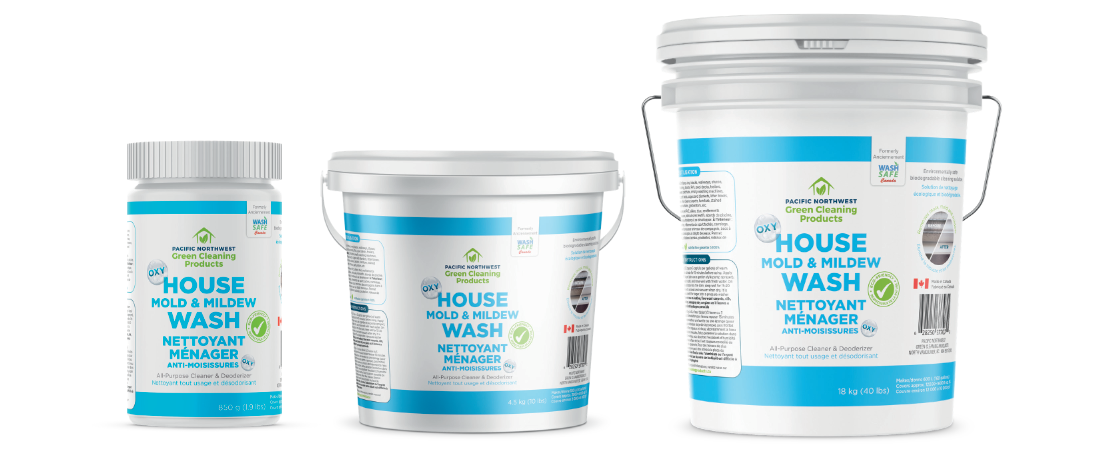 I will always choose your products in future

Thanks for being so kind and I will always choose your products in future. Great customer service for sure and products.
Fast and friendly service!

As a building service contractor, I try to leave as small of an environmental footprint as possible while still giving my customer base the results they expect. The Wash Safe products I've used have consistently outperformed my expectations while not using some of the nasty chemistry that was required before. It's worked extremely well on everything from heavily soiled tile and grout, slimy west coast balconies to concrete walkways – all without leaving harmful products behind. Much safer for me and my staff!, The products are easy to use and very safe. Many thanks to Doug and his staff for the fast and friendly service!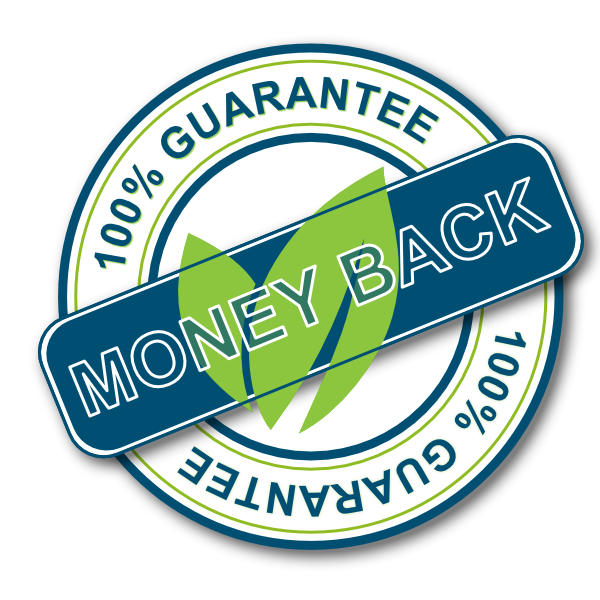 100% MONEY BACK GUARANTEE
If for any reason you are unhappy with your results and you feel that a refund is warranted, simply return the product and the receipt and we will refund your money, no questions asked. This way you can order with confidence. We want you to be happy and to have a pleasant, stress free shopping experience. Our products work and work well…all you have to do is give them a try!
Attention Contractors: There are no refunds on contractor-size products. We have never had a contractor ask for a refund but if you are a new contractor, we suggest ordering our smaller size products first to get used to using them before ordering our contractor-sized products.
Explore the Many Uses of House Mold & Mildew Wash
Clean Up After Floods With Oxy House Mold and Mildew Wash Time is critical after a flood. Clean up [...]
Using Oxy House Mold and Mildew Wash to clean up after the water has receded: Product Description Using a [...]