Need A Powerful Mold, Mildew & Algae Wash That's Environmentally Friendly And Keeps Your Boat and RV Looking Ship Shape?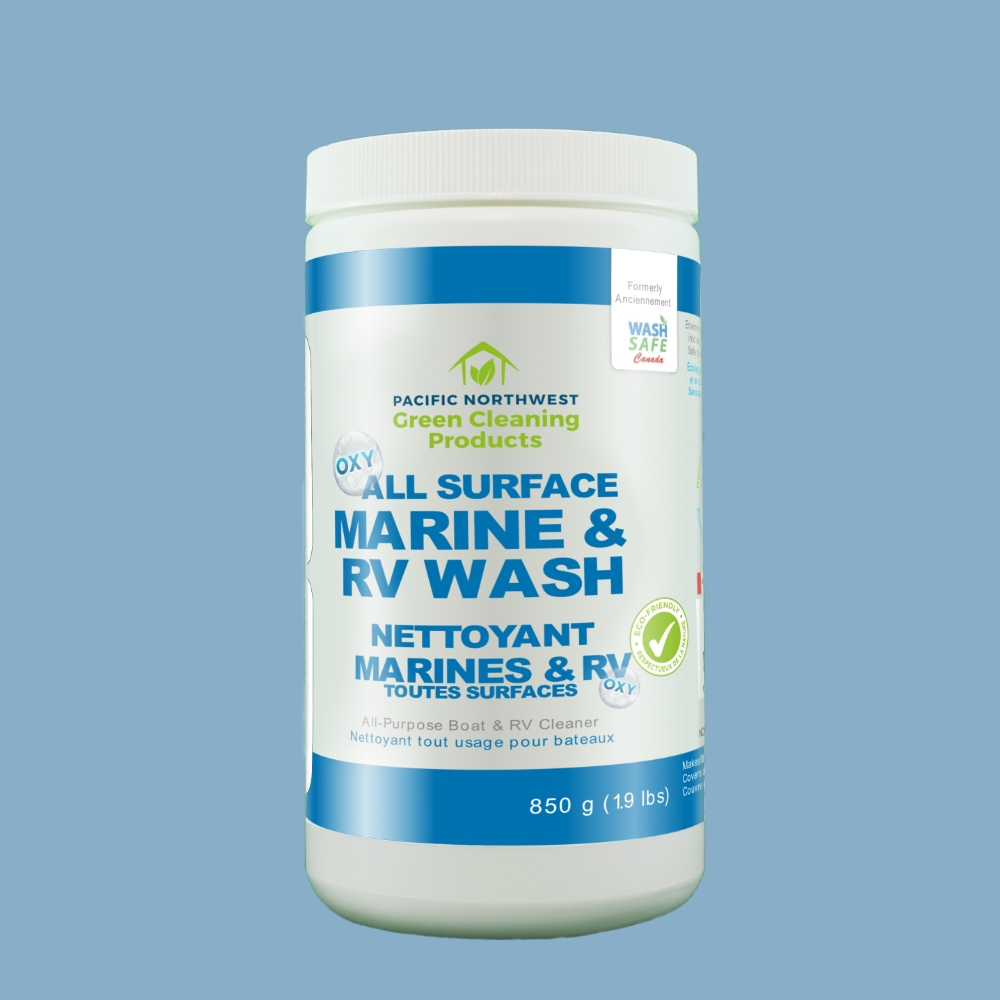 Non-toxic cleaner, safe for oceans, lakes, rivers and all aquatic life

Very space-efficient – made from super concentrated powder with no expiration date

Eliminates organic matter on your boat, including mold, mildew, algae, fish blood and bird feces on decks, vinyl upholstery, carpet, bilges, toilet bowls, live wells and refrigerators

Sail Cleaning – Clean sails like a professional
Oxy All Surface Marine and RV Wash (previously Marine, Mold, Mildew & Algae Wash) uses our hydrogen peroxide technology as its active cleaning agent. When mixed with various "green" detergents, alkalis and wetting agents, it provides a very non toxic cleaning agent safe for oceans, lakes, rivers and all aquatic life. We made it very low foaming and it has a pleasant citrus scent, thus when cleaning it does not raise any flags due to excess amounts of foam or chemical odors surrounding the boat which is always a major concern for marinas and yacht clubs.
Space is always a concern on a boat and that's why we made this product in a super concentrated powder with each 850 g bottle making 8 gallons of cleaner. Buying our boat cleaner in powder form, rather than a boat cleaner in liquid form, has a couple of key advantages. The first is no expiration date as powder does not expire. The second advantage is that when the powder is mixed with water you are getting a cleaning product at 100% full strength. When you buy any cleaning product that is mixed in liquid form, it contains anywhere from 70-98% water and every single day that the product sits, it weakens until it is useless or expires.
Marine Wash Applications Instructions
Mix 1/2 cup Marine Wash per gallon in a bucket and dissolve. Let it perculate for 15 minutes, and it is ready to apply.
Fiberglass decks Using a stiff deck brush, dip the brush into the solution and proceed to scrub the deck. Rinse with water
Teak Again, using a deck brush, wet the teak with the solution and scrub. Rinse with water.
Sail covers, awnings, spray dodgers Spray onto fabric with either a spray bottle or pump style sprayer, or simply wet from the bucket, scrub with brush, especially areas of dirt or mold, and garden hose off. Let dry and repeat if you have stubborn spots.
Deck cushions Spray on the solution, wipe down with a sponge, cloth or brush, and hose off.
Bait tanks Pour the bucket of solution into the bait tank, scrub with a brush, then drain and rinse.
Fridge or icebox Spray interior to disinfect the surfaces and de stroy any odour causing bacteria. If the fridge or icebox has a drain, the solution will help keep the drain hose free of organic deposits that may slow the draining process.
Countertops, sink etc. Rather than using chemically toxic disinfectants, spraying the surfaces with Marine Wash will clean and disinfect, allowing the boat or RV own er to dispense with multiple cleaners
Headliner Simply spray and wipe down with the marine wash solution for removal of any mildew stains
that cause those musty smells.
Under cushion cleaning A regular spray and wipe with Marine Wash will prevent any mold and mildew growth, keeping the sleeping areas smelling fresh and clean.
Interior cushions or carpets Spray stains with a spray bottle (32 oz spray bottle needs only 2 tablespoons of powder). Do not mix in the bottle and cap as the release of the oxygen gases will blow the top off. Instead mix in an open top container, let perc then pour into the sprayer. After wetting the stains with the product, let sit for 10 minutes or so, keeping it wet, then blot with a rag, sponge or paper towel and let it dry. If a white powder remains after drying, simply vacuum it off or remove with a damp cloth.
Head Run the normal amount of water into the head. Pour a capful of the powder directly into the bowl, stir to dissolve…a common toilet brush works well. The anti-bacterial feature of the Marine Wash will ensure no odour remains in the bowl or on the brush. After letting it sit for about 15 minutes, flush into the holding tank and rinse with water. The action of the solution, as it flows through the hoses to the tank will also help remove and prevent organ ic build up along the hose walls, keeping them clean, odour free and freely flowing.
Holding tank The oxidizing action of the Marine Wash will keep the effluent from coating the tank walls, dramatically reduce any smell, and help keep the contents loose for more efficient and complete pump out.
Mixing directions are simple, just a ½ cup of Marine Mold and Algae Wash to 1 gallon of water (warm when possible), stir periodically for 10 minutes prior to use to fully activate the solution. Using a bucket and scrub brush, mop or sponge the Boat Wash on, wipe with a dry towel or hose off. For cleaning boat bottoms with algae growth mix product stronger 2 or 3 times as strong, spray thick coat on with a "garden style" pump sprayer, let sit for at least an hour and pressure wash off (if you have the time let the product stay on for a few days or a week, it will completely dry up and wash off easily).
Sail Cleaning – Empty contents into 20 – 30 gallons (75 – 115 L) of water (warm if possible) using a large container like a bathtub, kids pool, storage tub etc. Stir frequently until granules are completely dissolved from 15 – 30 minutes to fully activate the product. Soak the sail overnight up to 24 hours, remove, and rinse thoroughly with fresh water. Hang to completely dry before storage. or before use. For large roller furling headsails contact us for more specific methods
Please note that mixing instructions are measured in U.S. gallons, so feel free to add more of the powder to your mix.
850 g bottle makes 8 gallons of cleaner
Watch as Neil from Blue Water Adventures, British Columbia uses Wash Safe Canada's Marine Mold, Mildew and Algae Wash to bring a J/24 sailboat back to pristine condition.
Our Oxy All Surface Marine and RV Wash works great on vinyl cushions (not for use on real leather or suede) and carpet and is completely non-staining. Below the waterline, boat algae easily releases when sprayed down with the Oxy All Surface Marine and RV Wash making uncoated boat bottom cleaning a breeze.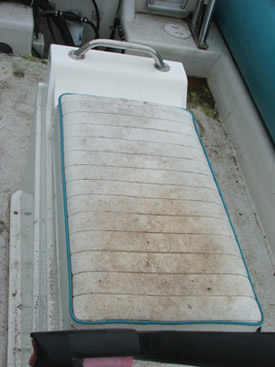 Vinyl Upholstery – Before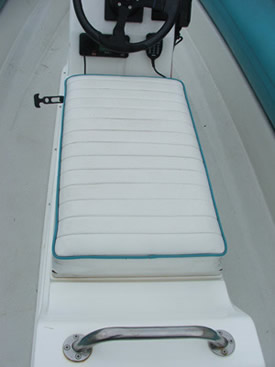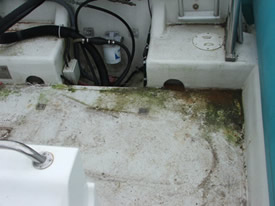 Boat Surface Algae – Before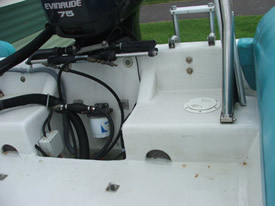 Boat Surface Algae – After
Buy Oxy All Surface Marine and RV Wash
Without a word of a lie , your Marine Wash is the best boat product available. It may not be a time saver, but what impresses me the most is the lack of ' elbow grease ' required on my aggressive non -skid decks.  I'm festidious and OLD , so thank you from my shoulders, arms and back.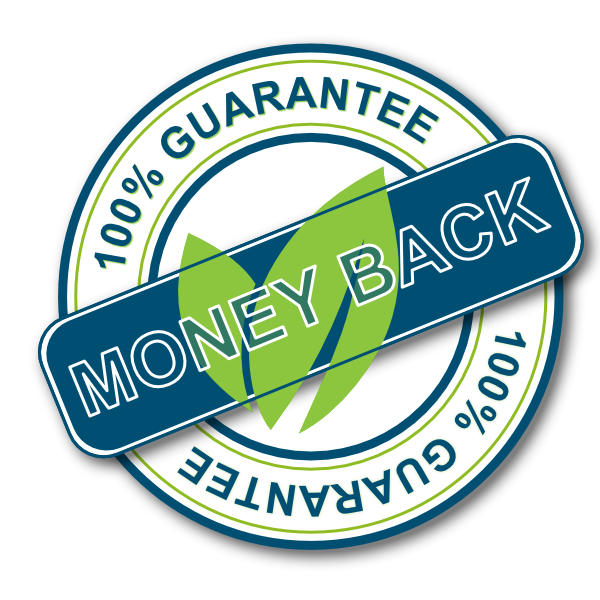 100% MONEY BACK GUARANTEE
If for any reason you are unhappy with your results and you feel that a refund is warranted, simply return the product and the receipt and we will refund your money, no questions asked. This way you can order with confidence. We want you to be happy and to have a pleasant, stress free shopping experience. Our products work and work well…all you have to do is give them a try!
Attention Contractors: There are no refunds on contractor-size products. We have never had a contractor ask for a refund but if you are a new contractor, we suggest ordering our smaller size products first to get used to using them before ordering our contractor-sized products.