Clean Up After Floods With Oxy House Mold and Mildew Wash
Time is critical after a flood. Clean up needs to start immediately. Mold and other dangerous toxins begin to develop as soon as the water starts to recede.
At one time, products like Oxy House Mold and Mildew Wash were only available to professional mold remediation companies. Homeowners were armed with just a bottle of bleach and a sponge. The trouble with bleach is that it's not designed to clean porous surfaces – it works great on a counter top which is flat and without pores. What's missing is the right surfactants and wetting agents to drop the cleaning agent into the groves and crevices where the mold spores are hiding and multiplying. Bleach can discolor and possibly damage everything it touches, not to mention the awful odor and the eye burning fumes.
Our product is hydrogen peroxide based and after use breaks down into oxygen and water after use. It is very user friendly, effective and safe for people, plants and pets.
Oxy House Mold and Mildew Wash can be used inside or outside of the home to fight mold. It can be used on any surface without worry of staining. Oxy House Mold and Mildew Wash has no odors or harmful fumes making it very safe to clean inside in non-ventilated areas.
The following is a list of different things around the home that can be cleaned safely and without damage after flooding by using Oxy Mold and Mildew Wash:
area carpets
walls, ceilings and floors
children's toys
linens
stained clothing
dishes
beds
couches and chairs
attics
basements
siding
decks
concrete
 drywall
Basically if it has been soaked, mold stains will appear.  Oxy House Mold and Mildew Wash is a strong detergent with powerful anti mold ingredients. Use it to clean and de-deodorize all garments, area carpets, bedding and towels that were damaged in the flood. (It will not work, however, on laid carpet as the underlay will always retain moisture and must be replaced.)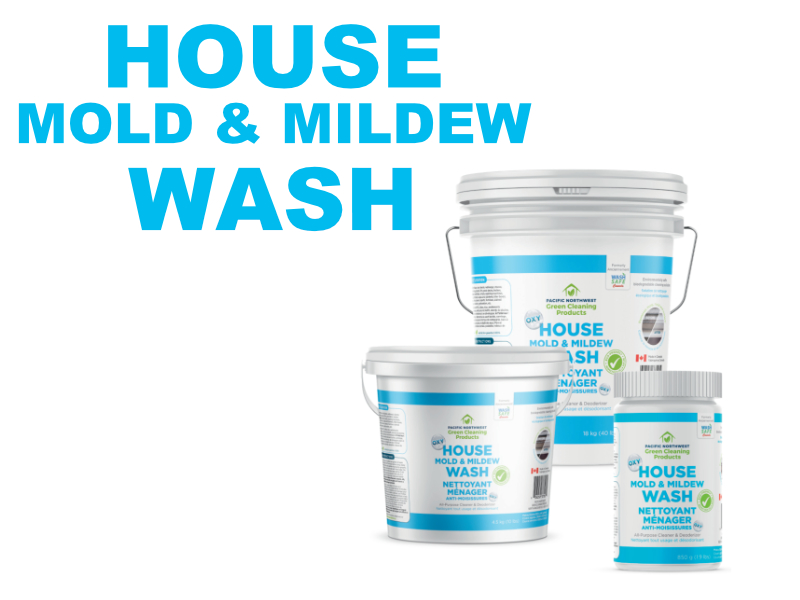 This product is a very strong powder concentrate that can be mixed with water and is ready to clean. It also is very economical as every 850 gm. container of Oxy Mold and Mildew Wash will make roughly 30 liters (8 gallons) of solution.
Directions:
Mix the Oxy House Mold and Mildew Wash  with warm water, let it perk for 15 minutes, then apply it to any surface, keep wet for 5 minutes, then wipe the surface with a rag or sponge to remove the spores that cause the smell and stains of post flood mold. For stained carpets, spray on the Oxy Mold and Mildew Wash to the carpet, let it soak for 30- 60 minutes and with a wet vac, or "Green Machine", vacuum it up. For clothing or any fabrics, presoak in a top loading washing machine or any large container such as a pail, bathtub, kids wading pool etc., with a cup or 2 of Oxy House Mold and Mildew Wash, agitate briefly to dissolve the powder, then soak for 2-3 hours. After the soak period, simply wash normally and the clothes will come out clean and mold free. You can also effectively use Oxy House Mold and Mildew Wash outside before you pressure wash or clean the exterior of your home, boat, RV, barn, chicken coop or any structure that has been damaged by the flood waters.
Severe floods can displace an entire family, a neighborhood, town or city for days if not weeks.  We featured this product as an anti mold and anti stain aid for the homeowner market after the deadly 2011 Tennessee floods, and then the dreadful flooding in the Muskoka and Eastern regions of Ontario two years ago. We feel everybody, not just professional cleaning contractors, can benefit from the use of our Oxy House Mold and Mildew Wash.
Here in BC, after the waters recede, time is of the essence for mold remediation, and we hope that we can help and that many homes will able to be cleaned, sanitized and moved back into sooner.
Good luck to our friends and neighbours, and everybody cleaning up after the flood. If more cleaning information is needed, please send an e mail through our website at www.greencleaningproducts.ca