Trying To Clean Your Tile Roof
Like It Was Asphalt And
Getting Poor Results?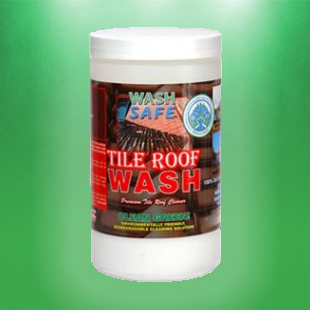 No chemical odours or fumes
Safe for people, pets, plants and grass
Get outstanding results because our product works twice as hard on the tops and sides of roof tiles

compared to other roof cleaning products
Clean your tile roof quickly and safely without damaging your home or the landscaping and without putting your children or pets at risk.

Our Tile Roof Wash removes dirt, grime, mold, mildew, black algae, moss and lichen by attacking the "roots" and weakening the fungus for an easy clean that last longer than traditional cleaners because of the ability to adhere to tile longer, allowing it to clean more effectively prior to rinsing. As with all our products, you do not need to worry about covering or wetting down your plants as our products will not harm the landscaping.

BUY TILE ROOF WASH NOW!
2 lb
Container
Tile Roof Wash
​
Only $39.99
(plus shipping)
10 lb
Container
Tile Roof Wash
​
Only $99.00
(plus shipping)
40 lb
Container
Tile Roof Wash
​
$299.99
(plus shipping)
100% MONEY BACK GUARANTEE
If for any reason you are unhappy with your results and you feel that a refund is warranted, simply return the product and the receipt and we will refund your money, no questions asked. This way you can order with confidence. We want you to be happy and to have a pleasant, stress free shopping experience. Our products work and work well…all you have to do is give them a try!
Attention Contractors: There are no refunds on contractor-size products. We have never had a contractor ask for a refund but if you are a new contractor, we suggest ordering our smaller size products first to get used to using them before ordering our contractor-sized products.