Wanting To Save Space In Your RV But Still Easily Keep It Clean And Spotless?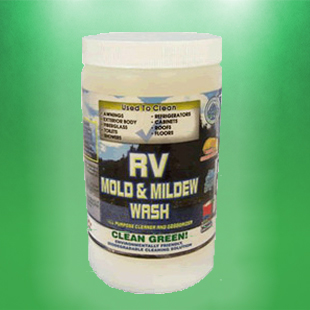 Space efficient

using a very concentrated powder
Non-toxic and bio-degrades

rapidly
Clean many different surfaces

with a single cleaning agent
Every RV owner knows that there is one thing that they think about before they make any purchase and that thing or thought is "space". This small 8 inch tall by 4 inch in diameter plastic bottle takes up very little space. It is a very concentrated powder ,that when mixed with water, provides 8 gallons of RV cleaner. Look at all that space you just saved. Not only that, but you clean multiple surfaces with this product eliminating all the other bottles of cleaners that just clean specific surfaces.

This product is non-toxic and biodegrades rapidly. It is safe to dispose of anyplace and there are no chemical odors or obnoxious fumes. Being in a powder form, there is no expiration date and when mixed with water you are getting a very strong cleaning agent that contains millions of tiny little bubbles that makes cleaning so easy. The product uses a very safe and "green" cleaning agent as its main ingredient is "hydrogen peroxide". Hydrogen peroxide mixed with other various safe detergents has made an all-purpose RV cleaner that should be in every RV. It is so versatile that if you had to pick one cleaning agent due to limited space, you would be very happy with RV Mold & Mildew Wash.

Use it for all of your cleaning needs in your RV:
BUY RV MOLD & MILDEW WASH NOW!
2 lb
Container
RV Mold & Mildew Wash
​
Only $37.99
(plus shipping)
10 lb
Container
RV Mold & Mildew Wash
​
Only $99.00
(plus shipping)
40 lb
Container
RV Mold & Mildew Wash
​
$299.99
(plus shipping)
100% MONEY BACK GUARANTEE
If for any reason you are unhappy with your results and you feel that a refund is warranted, simply return the product and the receipt and we will refund your money, no questions asked. This way you can order with confidence. We want you to be happy and to have a pleasant, stress free shopping experience. Our products work and work well…all you have to do is give them a try!
Attention Contractors: There are no refunds on contractor-size products. We have never had a contractor ask for a refund but if you are a new contractor, we suggest ordering our smaller size products first to get used to using them before ordering our contractor-sized products.