Avoid An Expensive Roof Replacement By Easily Removing Moss, Algae And Mold From Your Shingles
!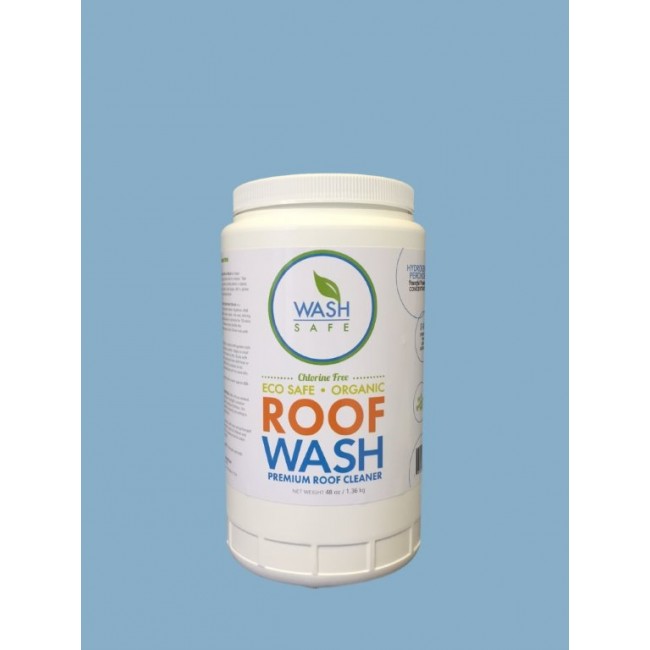 Remove moss, black algae, mold, lichen or any fungus that may grow on roofs

and eat away at your roof shingles
Safe and effective

for asphalt, metal, tile, wood shake, rubber and new composite roofing materials
Feel confident

knowing our product won't harm your children, pets or landscaping!
If you are looking for a safe, effective way to clean to clean stains or debris caused by algae and moss from your roof without harming your pets or your landscaping, our Roof Wash is exactly what you need. We field tested and perfected our formula over years in the roof cleaning industry and as the manufacturer, we stand behind the efficacy and safety of our product 100%.
Check out how a dirty roof can actually put your home insurance in jeopardy!
[tcb-script type="text/javascript" src="https://v9.anv.bz/scripts/anv_mcp_9.js"][/tcb-script][tcb-script type="text/javascript"]var p = new anv_pl_def(); p.config = {}; p.config.width = 640; p.config.height = 360; p.loadVideoExpressV3('eyJ1cGxvYWRfaWQiOiJleHByZXNzLTE0MDEzMDMwNzE3NDYiLCJ2aWRlb190eXBlIjoiMSIsInNyY19pbWFnZV91cmwiOiJodHRwOi8vbWVkaWEyLmtqcmguY29tLy9waG90by8yMDEyLzA4LzIwL0luc3VyYW5jZV9jb21wYW5pZXNfY2FlOTAzNTk5OS0wYjU2LTRjMDgtODRhMS03ZWY5NmU4MmI2MWIwMDAwXzIwMTIwODIwMTMyNjAxXzY0MF80ODAuSlBHIiwiZGVmX3RpdGxlIjoiSW5zdXJhbmNlIGNvbXBhbmllcyBjYW5jZWwgcG9saWNpZXMgYmVjYXVzZSBvZiBkaXJ0eSByb29mcyIsInRpdGxlIjoiSW5zdXJhbmNlIGNvbXBhbmllcyBjYW5jZWwgcG9saWNpZXMgYmVjYXVzZSBvZiBkaXJ0eSByb29mcyIsImRlZl9kZWNzcmlwdGlvbiI6IiIsInB1Ymxpc2hlZF91cmxzIjpbeyJmb3JtYXQiOiJtcDQ7IiwiZW1iZWRfdXJsIjoiaHR0cDovL21lZGlhMi5ranJoLmNvbS92aWRlby9jcml0aWNhbG1lZGlhLzIwMTIvMDgvMTYvSW5zdXJhbmNlX2NvbXBhbmllc19jYWU5MDM1OTk5LTBiNTYtNGMwOC04NGExLTdlZjk2ZTgyYjYxYi5tcDQiLCJwcm90b2NvbCI6Im1wNDsiLCJjZG5fbmFtZSI6IkFrYW1haSIsImticHMiOjUwMH1dLCJ0c19wdWJsaXNoZWQiOiIyMDEyXzA4XzE2In0=|1000011|SPS');[/tcb-script]
Watch Roof Wash At Work…

Click the bottom right corner icon to view the video in full screen.

And See The Results!

Actual Untouched Photo Showing The Effectiveness Of Roof Wash!(please note that the roof was lightly rinsed after application at less than 1000 psi )
BUY ROOF WASH NOW!
3 lbContainer
Roof Wash
​
Only $39.99
(plus shipping)
10 lbContainer
Roof Wash
​
Only $99.00
(plus shipping)
40 lbContainer
Roof Wash
​
$299.99
(plus shipping)
100% MONEY BACK GUARANTEE
If for any reason you are unhappy with your results and you feel that a refund is warranted, simply return the product and the receipt and we will refund your money, no questions asked. This way you can order with confidence. We want you to be happy and to have a pleasant, stress free shopping experience. Our products work and work well…all you have to do is give them a try!
Attention Contractors:There are no refunds on contractor-size products. We have never had a contractor ask for a refund but if you are a new contractor, we suggest ordering our smaller size products first to get used to using them before ordering our contractor-sized products.
Coverage
2 lbs will treat 600-800 sq ft of roof.10 lbs will treat 3,000-4,000 sq ft of roof.40 lbs will treat 12,000-16,000 sq ft of roof.
​
Directions
Add 3/4 cup per gallon of water, mix well, stirring frequently, allow solution to fully activate for 15 minutes prior to use. To clean stains caused by moss without rinsing just apply and leave the rain will do the rinsing. Allow 60 days to pass before reapplying if needed.For instant results removing stains caused by moss, mold or black algae apply to roof with a pump sprayer or other other spraying methods and use a pressure washer at low speed to rinse the roof, this is the optimal means of cleaning a roof, a scrub brush and hose may be substituted.
​To treat roof moss:Apply a coat of Roof Wash to the infected area of the roof. Once applied, you now have the option of letting Mother Nature rinse the roof for you or rinsing it yourself. If you do not clean your roof the day of the application you will notice that all of the moss that was sprayed will be turning brown and drying up. This happens very quickly, within the first week after the treatment. The good news at that point is that the moss has stopped eating away at your roof. Now all there is to do is to wait for the sun, wind and rain to remove the moss. With every day that goes by you will notice less and less moss on the roof until the roof is free of the moss. The process usually takes 60-90 days before the moss is completely gone.To treat black roof stains and streaks:Apply a coat of Roof Wash to the infected area of the roof. Once applied, you now have the option of letting Mother Nature rinse the roof for you or rinsing it yourself. If you want to see how much black algae and mold is coming off your roof, catch some of the gutter runoff in a bucket. The water will be black and when it settles there will be coating on the bottom that will look similar to mud. If you do not clean your roof the day of the application, you will notice with every passing storm that your roof stains will become lighter and lighter.A reapplication in some severe cases is necessary 60 to 90 days later to achieve optimum results. The most important factor in this whole process is that after that first application the algae or mold will no longer be eating away at your roof shingles, so right away you have solved the biggest problem. Now you just need to wait until the rain rinses away the mold and black algae.
IMPORTANT!
Please note that mixing instructions are measured in U.S. gallons, so feel free to add more of the powder to your mix.
You'll find answers to most frequently asked questions below, as well as a handy measurement converter tool. If these resources don't answer your question(s), feel free to contact us by clicking the green button below:
I have a question about my asphalt roof that we recently cleaned with Roof Wash. The roof looks great, and it is getting lighter as time goes on. Why is that? I also had a few people tell me how good my roof looks!! – Pat M. (Nova Scotia)
Hi Patrick…just was checking in to see how the cleaning went after a few weeks. Interesting, but we are finding that the surfaces continue to lighten even after washing as there is still some products soaked into the roof, and every time it rains for a couple of weeks it will activate a bit more.
I recently cleaned my asphalt roof with Roof Wash. I had some extra so I tried a small part of a wooden wall colored with a stain. The Roof Wash solution started discoloring and lifting the stain, turning brownish. Why did this occur? – Mark (Courtenay, BC)
Our Cedar Wash and our Deck Wash will lift and remove stain from wood. So will Roof Wash. In this case the Roof Wash did the same thing so you must be careful when working around stained surfaces vs painted. Since you live in BC where cedar and its anti-rot characteristics is common in building, I suspect that the brownish tint was because the stained wood was cedar which when washed with our products bleeds a brownish tint as the moss and algae is destroyed.
When having my roof sprayed with Roof Wash, I had some run-off over some windows. It dried as the weather was hot and left a film on the glass that was very difficult to remove. Any advice?
Some people swear by vinegar and water, then a rub with crumpled up newspaper. Ronda of Courtenay reported she used ordinary dish soap in solution then finished with a product called "Window Cloth" from Norwex (that she purchased from Christine Rayne 250 218 6041) that did a miraculous job.
​
​
​
ConvertMeasurements:
From:
To:
liter [L, l]quart (UK)quart (US)gallon (UK)gallon (US)
liter [L, l]quart (UK)quart (US)gallon (UK)gallon (US)
Result:
From:
To:
pound [lb]ounce [oz]kilogram [kg]gram [g]
pound [lb]ounce [oz]kilogram [kg]gram [g]
Result:
UnitConversion.org – online unit converter of length, weight, volume, area, and more.