Redihans Eco-Safe Outdoor Glass Cleaner with Hose End Bottle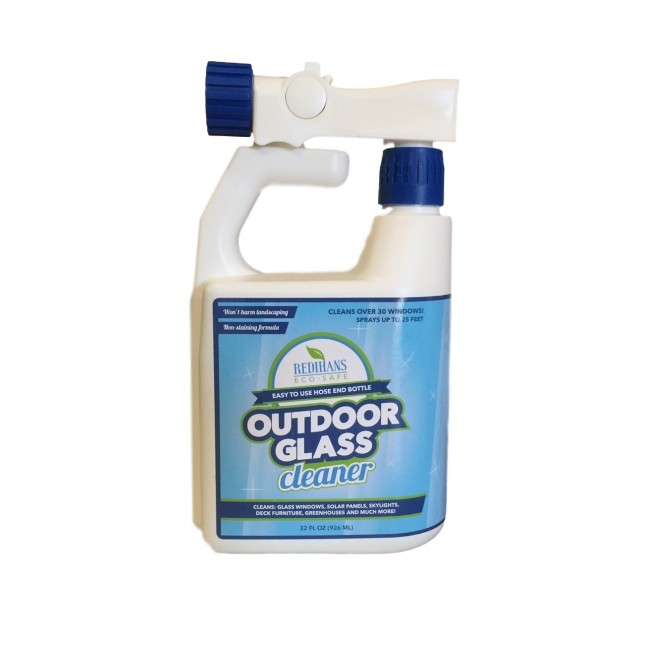 Outdoor Glass Cleaner cleans over 30 windows and sprays up to 25 feet. Our non-staining formula won't harm landscaping.
32oz / 2lb container​
BUY OUTDOOR GLASS CLEANER NOW!
2lb Hose End Bottle
​
How many bottles would you like?
1 Bottle $14.99 CAD2 Bottles $26.00 CAD4 Bottles $46.00 CAD6 Bottles $60.00 CAD
​
100% MONEY BACK GUARANTEE
If for any reason you are unhappy with your results and you feel that a refund is warranted, simply return the product and the receipt and we will refund your money, no questions asked. This way you can order with confidence. We want you to be happy and to have a pleasant, stress free shopping experience. Our products work and work well…all you have to do is give them a try!
Attention Contractors:There are no refunds on contractor-size products. We have never had a contractor ask for a refund but if you are a new contractor, we suggest ordering our smaller size products first to get used to using them before ordering our contractor-sized products.
Coverage
Cleans up to 30 windows
Directions
Attach bottle to a garden hose and turn on the water, the turn valve on the top of the bottle should be in "off" position. Break small valve stopper by bending outward, when you are in front of your window or target stand back a minimum of 6 feet and turn valve to "on" position, after spraying your target stop for 10 mins and let the product work (do not let product dry on window) then turn valve to "water" and rinse window or target and surround­ing areas. Repeat at next window.
For Best Results
After applying product to window or target use a sponge to scrub
After rinsing with water, use a squeegee to wipe clean
A squeegee or sponge on an extension pole would be very helpful
Use above 50 degrees Farenheit
You'll find answers to most frequently asked questions below, as well as a handy measurement converter tool. If these resources don't answer your question(s), feel free to contact us by clicking the green button below:
​
​
​
​
ConvertMeasurements:
From:
To:
liter [L, l]quart (UK)quart (US)gallon (UK)gallon (US)
liter [L, l]quart (UK)quart (US)gallon (UK)gallon (US)
Result:
From:
To:
pound [lb]ounce [oz]kilogram [kg]gram [g]
pound [lb]ounce [oz]kilogram [kg]gram [g]
Result:
UnitConversion.org – online unit converter of length, weight, volume, area, and more.