Frustrated With Trying To Remove Stubborn Mold & Mildew Around The House?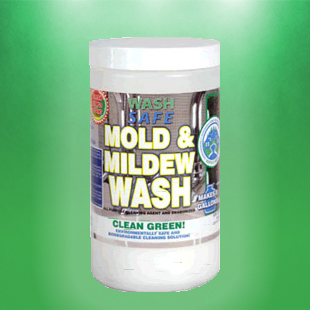 Excellent for removing mold, and preventing it from re-growing
Safe around plants, lawn, and wildlife
Perfect for moldy surfaces inside or outside your house!
Using a powdered form of hydrogen peroxide as the main active ingredient, this Mold & Mildew Wash was formulated for everyone who is trying to make the change from chlorine's and bleaches that clutter the retail shelves and poison our earth. Everybody just reaches for their bottle of bleach when a mold or mildew cleaner is needed.Our Mold & Mildew Wash not only cleans, it de-odorizes with a fresh citrus scent, leaving behind a clean surface and enjoyable fragrance, a refreshing change from the toxic odors and fumes from bleach. This product is non-staining, will not harm your plants or lawn, will not disturb wildlife and only has a 4-6 hour "activated" life, before breaking down into water. Mix only what you will use but if you have activated product left over, dispose of it down your drain, where the product will break up organic matter, de-odorize your pipes and is safe for your septic system.Inside the home uses include: tub, tile, toilet, sink, shower, spas, dishwasher, coffee pots, liter boxes, pet cages, refrigerator, wastebasket or any area where mold, mildew, stubborn stains or offensive odors are found. It is also great in the washing machine to brighten clothes without discoloring them. Outside of the home uses include: vinyl or aluminum siding, gutters, window sills, patio furniture, grills, coolers, trash barrels, decks, patio stones, driveways, walkways, stairs, steps, mailboxes, RV's, boats, tents, or any where mold, mildew, dirt, grime, stubborn stains or offensive odors are found.
BUY MOLD & MILDEW WASH NOW!
2 lbContainer
Mold & Mildew Wash
​
Only $37.99
(plus shipping)
10 lbContainer
Mold & Mildew Wash
​
Only $99.00
(plus shipping)
40 lbContainer
Mold & Mildew Wash
​
$299.99
(plus shipping)
100% MONEY BACK GUARANTEE
If for any reason you are unhappy with your results and you feel that a refund is warranted, simply return the product and the receipt and we will refund your money, no questions asked. This way you can order with confidence. We want you to be happy and to have a pleasant, stress free shopping experience. Our products work and work well…all you have to do is give them a try!
Attention Contractors:There are no refunds on contractor-size products. We have never had a contractor ask for a refund but if you are a new contractor, we suggest ordering our smaller size products first to get used to using them before ordering our contractor-sized products.
Coverage
2 lbs will treat 600-800 sq ft10 lbs will treat 3,000-4,000 sq ft40 lbs will treat 12,000-16,000 sq ft
Directions
Add ½ cup per gallon of water, mix well, stirring frequently, allow solution to fully activate for 15 minutes prior to use. Clean small sections at a time. Apply product with a mop, scrub with brush, keep area moist with product while brushing and rinse with water. For "professional results, a pressure washer may ne substituted for scrub brush and hose.
IMPORTANT!
Please note that mixing instructions are measured in U.S. gallons, so feel free to add more of the powder to your mix.
You'll find answers to most frequently asked questions below, as well as a handy measurement converter tool. If these resources don't answer your question(s), feel free to contact us by clicking the green button below:
I've heard that your Hydrogen Peroxide products can be used as a detergent. Is this true? (Kimberlee, MA)
Absolutely, especially with athletic gear. I use Mold and Mildew Wash. I usually use at least 1/2 cup or more, especially if the clothes are really dirty. In my opinion you really can't use too much! Yes, you can absolutely use it on colors. The Mold and Mildew Wash has got dirt, food and grass stains out of all my clothes. Sometimes I do let the powder sit on the stains if the are really bad. I just pour a little powder on the stain and mix with a little water. Let it sit for 10-15 minutes or you can let the washing machine fill with water and 1/2 cup or more of Mold and Mildew Wash and let it sit for 15-20 then start wash. I have been using it for a long time and think it's great! I also use it for washing my tub and glass door on shower to get soap scum off, it is really amazing. I mix a 1/2 cup or so with warm water and use a sponge to apply. Then scrub with the rough part of sponge and it comes right off.
Will Mold and Mildew Wash work on shower grout?
Yes Mold and Mildew Wash works great on shower grout.
Read more…
Our Mold & Mildew Wash can out clean bleach every time without stinging and drying out your hands and without staining your clothes. Our Mold & Mildew Wash comes in a powder form and when mixed with water it retains 100% of its cleaning strength. Bleach on the other hand is made with 97% water and every day that it sits on a shelf or in your closet it is losing its strength thus you are not getting what you are paid for! 2 lbs of the product makes eight gallons of cleaner at full strength, with an unlimited shelf life, having hundreds of uses inside and outside the home. It smells terrific and is completely environmentally friendly.Apply Mold & Mildew Wash to prevent any mold from growing or to remove any mold that has started to grow. Mold & Mildew Wash is also a great cleaning agent. It has a percentage of soap in the ingredients to help clean so there is no need for multiple cleaning products. The Mold & Mildew Wash can handle the whole job. Mold & Mildew Wash is made with hydrogen peroxide and hydrogen peroxide will clean better than bleach without all of the negative side effects of cleaning with bleach. It will not stain any surface, there are no fumes like there are with bleach, and there is no chemical odor. In fact the Mold & Mildew Wash has a fresh citrus scent and most importantly we formulated the Mold & Mildew Wash to clean from the bottom so that every spore and every bit of debris gets removed. Bleach on the other hand only cleans "topically" and is not a "long term" cleaning solution. Use a mop, sponge or a "garden style pump sprayer" to apply the Mold & Mildew Wash to walls, floors or any surface. Let the product work for 15-20 minutes on the targeted surface. Work into the surface with a deck brush or some tool to lightly scrub the area if it's necessary. If there is no fungal growth, scrubbing can be eliminated just coat the surface.
​
​
​
ConvertMeasurements:
From:
To:
liter [L, l]quart (UK)quart (US)gallon (UK)gallon (US)
liter [L, l]quart (UK)quart (US)gallon (UK)gallon (US)
Result:
From:
To:
pound [lb]ounce [oz]kilogram [kg]gram [g]
pound [lb]ounce [oz]kilogram [kg]gram [g]
Result:
UnitConversion.org – online unit converter of length, weight, volume, area, and more.