Worried About Using
Toxic Chlorine Bleach Or TSP To
Clean And Brighten Your Cedar Products?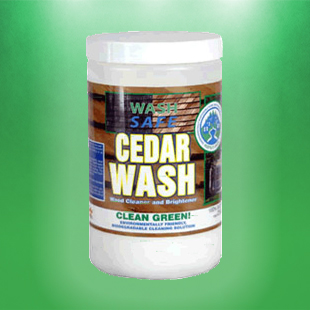 Feel great about using a cleaner that contains no bleach

nor does it require bleach to be added.
Get fantastic results

using only natural wood brighteners!
Perfect for your log home, boat teak, barn board or any natural wood surface!
​
This hydrogen peroxide based formulation with natural wood brighteners continues to receive compliment after compliment. The alternative has always been chlorine bleach or TSP but the problem with those cleaners are that they leave the wood surface with a very unnatural bleached look, and rarely comes out uniformly clean, with a "blotchy" look that looks as if a bucket of bleach was thrown on the house.

Our cedar cleaning product does not contain bleach nor does it require bleach to be added. Cedar Wash comes in a powdered form that when mixed with water creates millions of tiny little bubbles. These bubbles loosen all mold and fungus that may be attached to the wood surfaces. Our advantage is the natural adhesive, that we added, to keep the product on vertical or steep pitched surfaces long enough to clean before running off. A light brushing with a scrub brush and a hose powered rinse is all that is needed to clean up your cedar shakes or shingle and save them from rotting away.

It is called Cedar Wash but it is a wood cleaner and works great on log homes, boat teak, barn board or any natural wood surface. It's a "must use" prior to sealing or staining any wood surface.

​
Hi there, your Cedar Wash product is amazing and I cannot wait to send before and after pics, I am still mind-blowing on how well it works. I will be recommending your product to everyone I know - it's truly a great product. I ordered another 10lb pail the other day just to be on the safe side on things.
Barbara
Repeat Cedar Wash Customer
​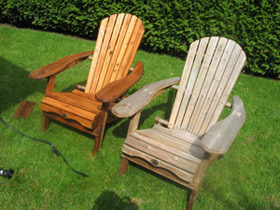 ​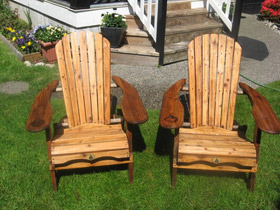 So safe for vegetation we were even able to do the cleaning on the lawn...!!
BUY CEDAR WASH NOW!
​
Only $37.99
(plus shipping)
​
Only $99.00
(plus shipping)
100% MONEY BACK GUARANTEE
If for any reason you are unhappy with your results and you feel that a refund is warranted, simply return the product and the receipt and we will refund your money, no questions asked. This way you can order with confidence. We want you to be happy and to have a pleasant, stress free shopping experience. Our products work and work well…all you have to do is give them a try!
Attention Contractors: There are no refunds on contractor-size products. We have never had a contractor ask for a refund but if you are a new contractor, we suggest ordering our smaller size products first to get used to using them before ordering our contractor-sized products.
---